The Corvette Diner In Liberty Station
The Corvette Diner is located on Historic Decatur Road in the Historical Liberty Station area of San Diego.
Corvette Diner is a colorful and fun 50's diner, complete with red booths, rock n' roll music, plus amazing burgers, shakes and dancing servers! It has such a fun vibe as soon as you walk in with a classic Corvette to greet you.
We were seated in our little red booth that had a TV playing video of old, classic movies. I was so excited to see video showing my favorite, "Ol' Blue Eyes", Frank Sinatra. I had a juicy burger and fries and my son had his usual hot dog and fries. We were pretty hungry, so we scarfed our food down pretty quickly. But the best part of our lunch was the entertainment while we ate. All the servers came out with pom pom's and did a little dance for us in the isle. What a fun job to have! And although we just had ourselves a good old fashioned soda, they do offer a full bar, including wine & beer.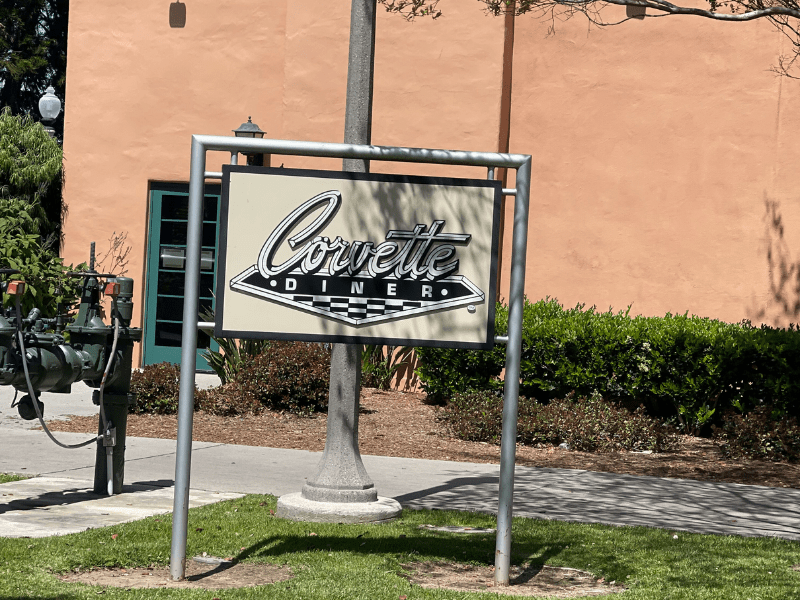 Gamer's Garage Arcade
After our lunch, I showed my son what a "pay phone" was, checked out the classic vet, put a quarter in Zoltar and then we went to the Gamer's Garage Arcade, located just behind the diner to play some games. They have over 60 games to keep the kids busy, including skee ball, pop a shot, and other video games that kept us there for at least an hour. My son won tickets and was able to trade them in for prizes, which is always his favorite part.
It was a fun day for my son and I, as we were able to walk around the rest of the area to check out the other restaurants, little shops. There are a ton of vendors inside Liberty Public Market which has even more food to try for our next visit. And since there is also a Stone Brewing there, I'm sure I can convince the hubby to come on our next trip down.
If you've been to Liberty Station or Corvette Diner, tell me your favorite places to check out in the comments!